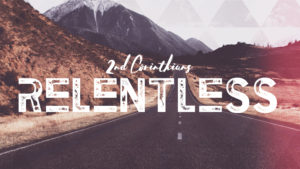 Sharon and I are having a great break. Plans were changed when my Dad's sister went to heaven last week, but she had such a great testimony – it would take too much time to share here. Thank you for your prayers for our family – and especially my Uncle Buddy who is in failing health now and missing his love of 64 years.
We are excited to be back together with our New Life family this Sunday!
Honoring our grads –
We have a number of important members of our New Life family graduating from high school and college this year. We will honor them Sunday with an open house style cake reception between our 9:30 & 11 a.m. services. Graduates – try to hang out by the cake table between the services (10:45 – 11) so that the folks can greet you and congratulate you on your great accomplishment!
New series – 2nd Corinthians – Relentless –
I am really excited to start our summer teaching series through 2nd Corinthians. This will be my first time to teach verse by verse through this important letter. Pastor Dean and Pastor Seth will be team-teaching the book with me (aren't you glad they are with us?)!
– Why is what we call "2nd Corinthians" actually at least the 4th letter Paul wrote to the church in that city?
– Why did he have to write so many letters to them?
– What is in the letter that is still important for us today?
– Why do we still go through hard times, even after deciding to follow Jesus?
We're calling this June series "Relentless" – because in these passages we see Paul relentlessly pursuing God's plan for His life, and relentlessly pursuing the purpose of the Corinthian people not wasting the grace of God that they have received –
And we share this goal – to relentlessly pursue God's plan – and relentless pursue those who need God's grace.
I hope you'll join us in June for this important series! I believe you'll get a lot out of it – and we continue to draw closer to the Lord doing our times of deep worship together!
See you Sunday!
---