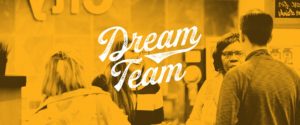 We are blessed at New Life Church in Kokomo, Indiana to have a phenomenal Dream Team! By ourselves we can't do much – but together we can do incredible things! Together, what is impossible begins to happen.
Because of what Dream Team servants do, people come to church and feel loved –
when their homes are breaking up
When their hearts are breaking due to a tragedy in their lives
When their kids are living a wayward life
When they've received a horrible diagnosis from the doctor
When they've lost their job
When they're so confused they don't know where else to turn –
They come to church and –
They hear worship music playing outside the door before they ever walk in
Someone smiles at them as they walk in the door
Someone smiles at them as they walk through the lobby
They smell fresh coffee and the atmosphere is clean, warm, inviting, and friendly!
They are able to get a specialty coffee or a smoothie from the friendliest faces they've seen in days.
Someone smiles at them and loves their kids from the first moment they see them.
They feel like their kids are going to be safe and loved.
There is a place for them to sit and chat and feel welcomed all the way through the lobby
They are not ignored or ostracized – the nervous feeling that they don't belong is beginning to melt away.
They are greeted warmly as they enter the Worship Center
The music is awesome
The sound and video quality are great.
The music and the words spoken are something they can relate to – even if they've never been to a church before in their lives.
There is nothing happening to distract them from the love that God is pulling them to.
There is someone available to pray with them at the altar.
They use the restroom, and it is clean and well-maintained!
They are warmly greeted at a hospitality table – they know there are friends here –
They receive a gift mug with candy and free drink from the coffee bar!
They receive an Info Book and they find out that there are people here like them, with similar interests, walking through similar phases of life together! This happens because people are willing to step up and be a group leader – even though they have reservations about their own qualifications!
They are invited to have lunch after the service to meet more people – connect – and enjoy a great meal that loving people have already prepared for them!
On and on and on it goes – every part doing it's work – every part making a difference –
Ephesians 4:11-16 – So Christ himself gave the apostles, the prophets, the evangelists, the pastors and teachers, to equip his people for works of service, so that the body of Christ may be built up until we all reach unity in the faith and in the knowledge of the Son of God and become mature, attaining to the whole measure of the fullness of Christ. Then we will no longer be infants, tossed back and forth by the waves, and blown here and there by every wind of teaching and by the cunning and craftiness of people in their deceitful scheming. Instead, speaking the truth in love, we will grow to become in every respect the mature body of him who is the head, that is, Christ. From him the whole body, joined and held together by every supporting ligament, grows and builds itself up in love, as each part does its work.
What Dream Team servants do is every part doing its work, holding the body together – causing the body to grow – causing the body to be built up in love –
What our Dream Teamers did resulted in 37 people making decisions for Christ last year!
That's 37 people who were on their way to hell – who are now on their way to heaven! Some of them are already bringing others – More people than we can count will be on their way to heaven because of Dream Teamers do! Each part doing it's work.
So far this year – 10 have already made decisions for Christ!
Because of what Dream Teamers do – 59 people completed our Growth Track last year and joined in this ministry!
Because of what Dream Teamers do – 251 first time guests were welcomed last year – that doesn't count those who came on Upward Sunday or those who didn't fill out Connection Cards!
Because of what Dream Teamers do – already this year – close to 200 guests have felt welcomed – that does count Upward Sunday!
Speaking of Upward – because of what Dream Teamers do – each part doing its work – lives are being changed.
Some people come to Upward drunk and high on Fridays and Saturdays – and they feel love – their kids feel loved – they hear great testimonies –
Families are part of our church this year who were not here last year because of Upward –
Because people coach
Because people pray
Because people assistant coach
Move stuff around
Set up chairs & basketball goals
Clean up
Serve in concessions
On and on and on that goes –
One of our Dream Teamers, who originally came to New Life from a very difficult life because of Upward, recently posted on her Facebook: "Our youngest graduated from their Upward teams! Cheerleading and basketball. Thanks Kaitlyn Fowler you were an amazing coach. Our daughter just loves you so much! We love the Upward program. It really speaks to our kids. They love Jesus and love this program! Blessings they are for sure. Everyone at New Life Church. You are all such loving people to our family
We Have grown so much in Christ and we thank you all for loving us through it all."
Kids who love Jesus! How can you beat that? There are more stories like that!
In every area, Dream Teamers are making a difference!
We don't always think it's a big deal what we do – but it is a big deal!
We may never become famous for what we do – but it's not the people who become famous who make all the difference – it's all the people behind the scenes who are never noticed who make the biggest differences –
Has anyone here ever heard of Charles Spong? One of my professors at school … certainly never heard of his dad – I don't even know his first name – just "Pastor Spong".
Someone Pastor Spong led to the Lord was a young kid by the name of David Wilkerson.
David Wilkerson became a young pastor in Pennsylvania – saw gang members on trial in NYC for murder – went to share Jesus with them – then started ministering among the street gangs in the 1950's –
Eventually he started a drug and alcohol rehabilitation center – Teen Challenge – these centers are now all around the world – 10's of thousands of lives have been changed and healed and on their way to heaven.
All because a small church somewhere had people who were faithfully serving – each one serving shares in the reward of David Wilkerson – he's not the only one who gets the reward!
John 4:35-38 – You know the saying, 'Four months between planting and harvest.' But I say, wake up and look around. The fields are already ripe for harvest. The harvesters are paid good wages, and the fruit they harvest is people brought to eternal life. What joy awaits both the planter and the harvester alike! You know the saying, 'One plants and another harvests.' And it's true. I sent you to harvest where you didn't plant; others had already done the work, and now you will get to gather the harvest."
What if the Pastor hadn't answered the call?
What if the people in that church hadn't served?
We all share in the rewards of the harvest together!
Years ago – a group of men no one had ever heard of decided to pray. They prayed for God to raise up someone from their community to share the Good News of Jesus and change lives. They decided to have a meeting. They called a preacher. Two rebellious teenage boys did not wanting to go to the meeting, but later decided to go. When they got there the meeting place was full. They turned to leave, but an usher stopped them and ESCORTED them to seats … ON THE STAGE!
One of those young men was Billy Graham. That was the night he began to follow Jesus.
Who was the usher? Did he make a difference? Does he share in the reward Billy Graham receives for all the lives that were changed because of his ministry?
Who were the men who prayed and organized the meeting?
Who was the preacher? (Mordecai Ham – almost no one today remembers him except for this story.)
They all made a difference in the world – it was never just Billy Graham.
When Billy Graham became famous at the Los Angeles crusade, they discovered one woman had prayed every night in a small tent nearby. Her name was Pearl Goode.
She never even went into the services where Billy Graham was preaching, but her prayers changed the world – by changing individual lives. Billy Graham believed in this so much he took her to London for their next big crusade. Then he put her on staff as a full-time prayer leader.
Sometimes we think, "I don't want to serve – I'm tired of serving!"
We want everyone to be spiritually well-fed – but we have to strike that balance of serving others before we serve ourselves. Pearl Goode never worried about getting to sit in one of Billy Graham's services. She served in her area of the ministry that caused people's lives and families to change for eternity!
Sometimes servants in church are like the mom with little children. I remember my wife saying she would finally get to eat another hot meal when the kids grew up … always serving before she was served –
Sometimes we have to do that in the church –
The difference can be heaven and hell.
The difference can be broken families or healed families.
We are serving others to Jesus!
Jesus said His followers would be "fishers of men." If I'm a fisher of men, it means I sometimes use bait that will reach those who don't know Jesus even though it may not be my preference.
How many like to eat worms?
How many like to eat minnows?
Not us – but we use it for bait when we fish –
I love spaghetti – but spaghetti doesn't make very good fish bait!
So – we do things in church to attract those who are not in church – because Jesus called us to be fishers of men.
God bless everyone who serves in any church in any area for all they are doing to make a difference!
And God help us to all be the best we can be – God help us to realize that everything we do results in making a difference – and the difference is heaven and hell for hundreds of people. We have these blessings and these opportunities every time we serve in every way we serve!
---